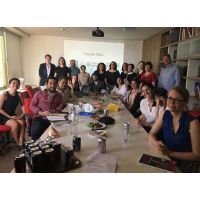 Professional Meetings Fellowship Program Open Call
ITEF2018-Istanbul International Literature Festival
"Follow the Literature"
May 4rd-13th 2018
Professional Meetings Fellowship Program Open Call
ITEF-Istanbul International Literature Festival aims to increase the visibility of Turkish literature abroad, to promote Turkish literature worldwide and to enrich the literary scene in Turkey by extending horizons and creating new dialogues. With these aims in mind, the festival established the ITEF Fellowship Program in 2011.
ITEF is a unique meeting point in Istanbul for writers, publishers, agents, translators, journalists, literary fund managers, festival coordinators and all of those passionate about world literature.
The program allows a limited number of literary professionals from around the world to meet with Turkish counterparts in their field, to share best practice and ideas and spark new projects and literary exchanges.
fellowship dates: May 2rd-6th 2018
To learn more about ITEF programme, please take "A Look at Istanbul's Festival and Fellows Program":
http://publishingperspectives.com/2016/06/tanpinar-festival-fellows-istanbul/
for more detail please contact us:fellowship@itef.com.tr